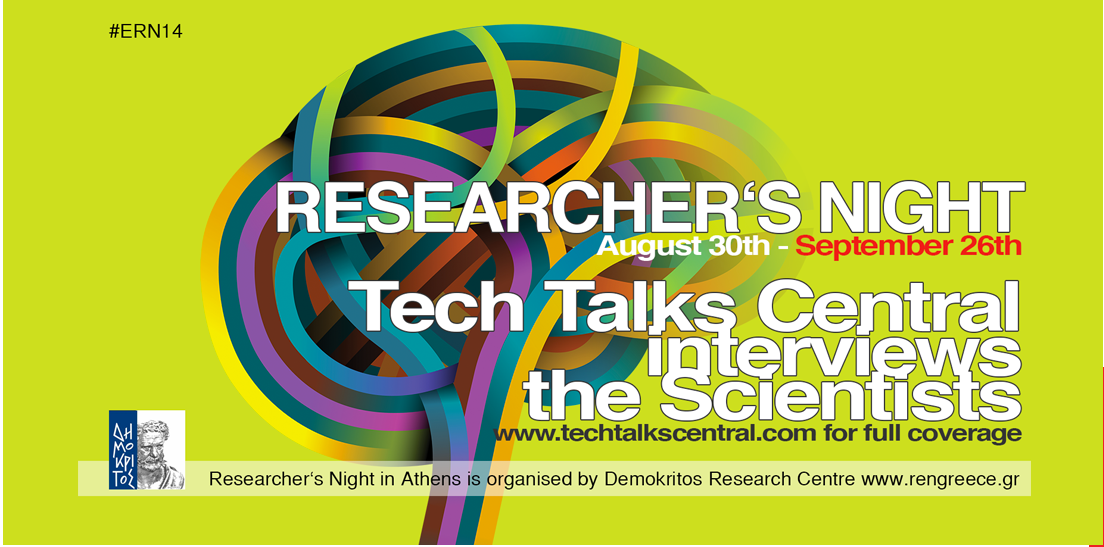 Interviewing our Scientists. Researcher's Night 2014
Tech Talks Central will be interviewing the Scientists that will be presenting their work at the European Researcher's Night, coming September 26th at the Demokritos Research Centre.
UPDATE: Broadcasting 30/8, 9:00 am
Saturday 30th of August tune in to hear our live broadcast. We wanna hear first hand what we'll be seeing, in vitro,  during Researcher's Night. Science can be fascinating; making it understandable and approachable to those that it affects most, the people, is not an easy task but we hope to make it sound comprehendible.
If you miss the live broadcast don't worry; we'll be uploading the interviews as podcasts, on SoundCloud and here.
Some of the scientists will be interviewing:
George KORDAS – Drug delivery systems for personalized chemotherapy
Maria Sachpazi – Geodynamics
Georgios Stavropoulos – Nuclear techniques to qualify olive oil
Christos Markou – Neutrino Astronomy
Evangelos GOGOLIDES – Selfcleaning surfaces
Maria Koutsombogera – Multimodal Communication, Multimodal Information Processing and Retrieval (applications in robotics, non-verbal computer interfaces etc).
Athanasios DIMOULAS – Novel materials for the microprocessors of the future
Evangelia Diapouli – Atmospheric polution – climate change
Evangelos Gerasopoulos – Atmospheric polution vs economical crisis
Vassilis Amiridis – BEYOND
Join us on September 26th 18:00 at Demokritos Research Centre in Agia Paraskevi, Athens. We'll be there with our own booth. Meanwhile sign up for our newsletter here and stay on board.
If you would like to get an idea of the type of interviews we conduct head over to our Mobile World Congress 2014 interviews or the eHealth 2014 interviews.