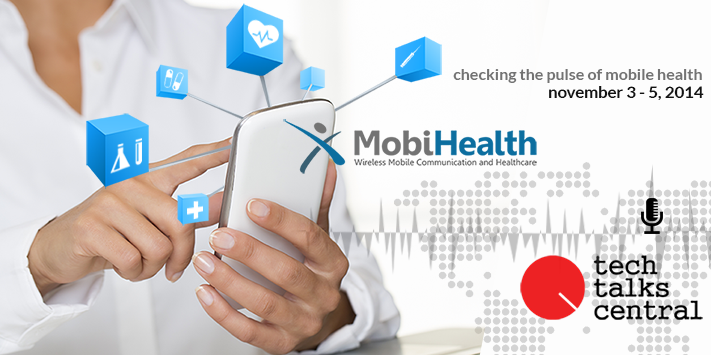 Checking the Pulse of Mobile Health
Tech Talks Central will be broadcasting live from the Satellite Event at MobiHealth during the 3rd – 5th of November, 2014. We will be interviewing professionals, scientists and researchers on their projects, industry news and trends.
MobiHealth, Athens Greece, 3-5 Novemeber, 2014
MobiHealth is the 4th International Conference on Wireless Mobile Communication and Healthcare. The 4th edition of MobiHealth proposes to continue and extend the focus areas of the first three editions, emphasizing on specific research and scientific challenges in the Healthcare Technology domain faced in Europe and globally and hence more interactive input from industry. The objectives of the conference are to advance medical diagnosis, treatment, and patient care through application of wireless communications, mobile computing and sensing technologies. Contributions will be solicited regarding the interdisciplinary design of efficient protocols and technologies to help implement and provide advanced mobile health care applications. The essence of the conference lies in its interdisciplinary nature, with original contributions cutting across boundaries but all within the ambit of the application of mobile communications (technologies, standards, solutions, methodologies, …) aiming at the improvement of human health.
on Innovative Systems and Services
"The Satellite Event" that will take place within the framework of the 4th International Conference on Wireless Mobile Communication and Healthcare (Mobihealth 2014), is particularly focused in bringing together the research community and the industry. To this end, it includes a number of different events that aim to facilitate communication and collaboration between these two diverse fields. "The Satellite Event" includes a number of sessions with presentations and demos of products or projects, placing particular emphasis in their practical and commercial use. These presentations and demos are highly targeted to give a clear picture about a product or project that both industry and research community can cooperate on, in order to improve or commercially exploit it.
"The Satellite Event" also includes an exhibition space where companies and projects will present their products and results. The exhibition space is within the venue and is available to all participants.
The event will host the Apps4Med award ceremony. The Apps4Med competition is a hackathon organised by the IEEE students' branch in Athens, where participants develop and present their mHealth mobile apps in a day.