Smart Nanostructured Surfaces, Dr. Evangelos Gogolides
Dr. Evangelos Gogolides, holder of 8 patents and author of many publications, talks about his team's research on nanostructured surfaces. He explains in simple terms what nanotexturing is -a term they coined- and how the method chemically modifies surfaces using plasma processing; thus creating water, oil, ice & microorganism repellent surfaces useful, for different applications, from 100-fold sensitive protein microarrays to self cleaning clothes. He goes on to compare research in Greece and abroad and talks about the opportunities in Greece for local researchers. Interviewed by Vicki Kolovou for Tech Talks Central.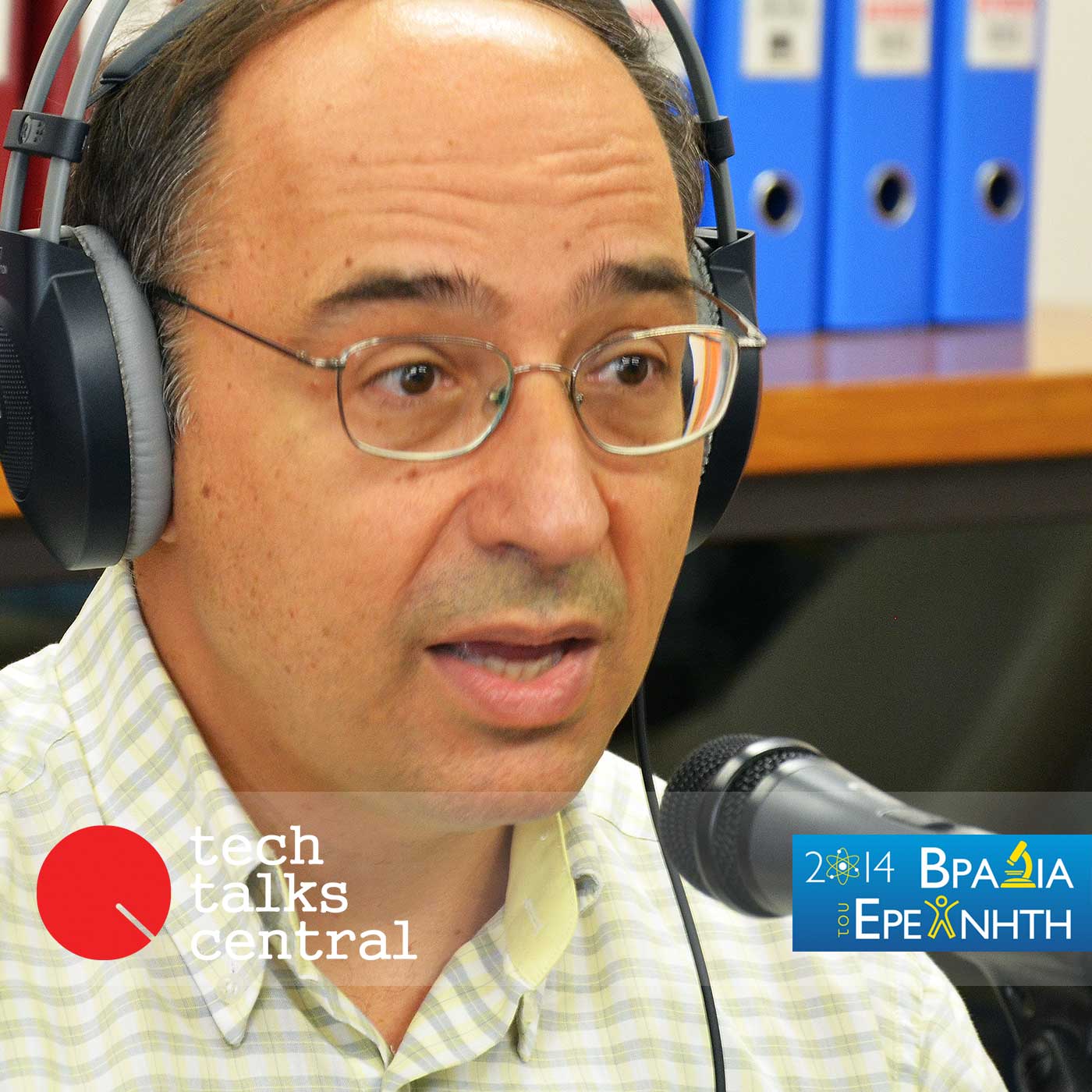 Evangelos Gogolides, Dr.
Director of Research in the Institute of Microelectronics (IMEL) / NCSR "Demokritos"
Dr Evangelos Gogolides has a Diploma in Chemical Engineering summa cum laude from the National Technical University of Athens-Greece (1985), a MSc (1987) and a PhD in Chemical Engineering (1990) both from MIT-USA. His thesis work was on plasma processing and plasma process simulation. He did post doctoral research on microlithography with Michael Hatzakis at NCSR "Demokritos" (1991-1993). He was elected assistant professor of research at IMEL Demokritos in 1994, associate professor of research in 1998, and full professor (research director) in 2004. Dr Gogolides is an author of more than 200 publications and 8 patents, and coordinator of several research projects on Next Generation Lithography (NGL) and Nanofabrication using lithography and plasma etching. His current research interests include micro and nano fabrication for Life Sciences, Plasma Nanoscience and Plasma Nanomanufacturing. He was conference program-chair for Micro and Nano Engineering Conference MNE-1997, program and steering committee member of MNE, conference chair for the 34th MNE 2008, and member of the Technical Chamber of Greece. Dr Gogolides is editor of Microelectronic Engineering. He is married with Barbara Papastavrou and they have two sons Michael Gogolides (11 years old) and George Gogolides (5 years old). Dr Gogolides is in charge of the activities to celebrate the 30 year anniversary of Microelectronic Journal during 2013-2014.
Specialties: Microelectronics
Researchers' Night is held for one night in several hundred cities all over Europe and beyond. The purpose of is to convey to the general public the key ideas that Research is a necessary ingredient for progress, the Researchers are an integral part of the community and their profession is both fun, challenging, interesting and worth pursuing. On September 26th 2014 Researcher's Night was held at the research centre NCSR Demokritos premises, in Athens. Tech Talks Central interviewed 18 Scientists & Researchers from 5 research centres that presented their work during Researcher's Night.